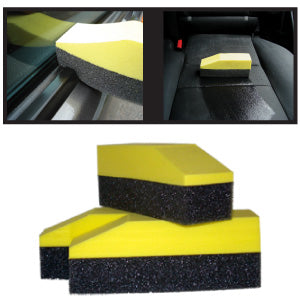 The All-In-One Sculpted Applicator/Cleaning Sponge has a built in handle to keep unwanted chemicals off your hands and unwanted surfaces. 
The sculpted design fits in small, hard to reach area's where ordinary sponges can't reach. It applies an even coverage over large areas and can be used with your favorite cleaning products or detailing products / works great for applying vinyl protectant and vehicle waxes! Also works great with paint and stain.
(3 Pack!) Never use an ordinary sponge again! THERE'S NOTHING AVERAGE ABOUT IT!